Lensa AI: Tech experts warn against handing over photos to popular AI app - CBS News
Tech experts warn against handing over photos to popular AI app
Tech experts warn against handing over photos to popular AI app
03:05
PITTSBURGH (KDKA) — Lensa AI has the internet in a chokehold.
Pretty much overnight, it's become No. 1 on Apple's charts for photo and video apps. The app lets users do things like re-touch their skin and increase their eye size.
But it's the magic avatars that have people racing to pay $7.99 a month or $29.99 a year for the app, which can transform simple selfies into anime, painting, or drawing versions of oneself using AI technology.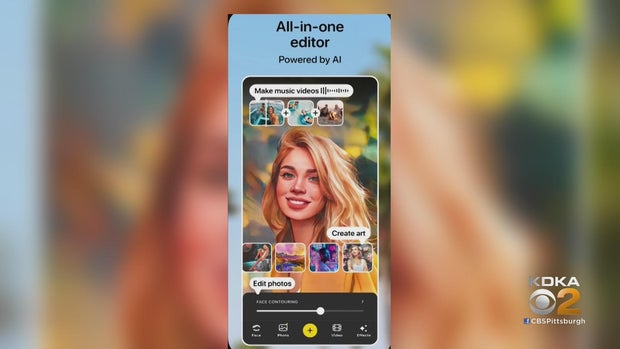 KDKA
The filters are modeled after the styles of popular artists, leaving some to question the integrity and ethics of the filters.
"Artists saying, hey, you're taking years of my work and you're saying that somebody can upload 10 selfies of themselves and get this illustration," said Katie Love, the CEO of Love Social Media.
There are also questions about how long the app keeps photos and concerns about people using your photos on the app inappropriately.
Love said people need to read the fine print before uploading their selfies.
"Your privacy, the usage data, the internet protocol, the IP address, and cookies that you're using may be collected, and Lensa is then using the data they're collecting from people to refine their AI art," said Love.
In regards to people using your photos inappropriately on the app, this is all spelled out in the code of conduct for Prisma, Lensa's parent company. Prisma also states in its privacy policy that the company will not use your photos for any reason, other than to apply these filters, without your consent.
Also, the company says it does not require or request metadata, which can include things like the GPS coordination of where a photo was taken. But some photos may automatically share that information by default without you knowing.
The bottom line, you are going to be giving away some sort of personal information by using Lensa.
And just like with any other social media platform or app, make sure you know what you're consenting to, and that you agree with the terms before signing up.
Royce Jones

Royce Jones joined the KDKA news team as a freelance reporter in January 2020. Royce covers a variety of story topics from breaking news, crime and human interest to the strange/unusual. No matter the story, Royce will meet the challenge head-on.
Thanks for reading CBS NEWS.
Create your free account or log in for more features.
Please enter email address to continue
Please enter valid email address to continue
Welcome to AI Crypto Letter, the go-to source for all things related to cryptocurrency and blockchain technology. Our team of experts is dedicated to bringing you the newest news, insights, and analysis on the rapidly evolving world of virtual currencies. Whether you're a seasoned pro or just getting started, we've got something for you. At AI Crypto Letter, we believe that education is key to the success of the virtual currencies and distributed ledger industry. That's why we strive to deliver our readers with clear and simple content that covers the most important aspects of this thrilling space. From bitcoin to altcoins, mining to leverage trading, we've got you covered. So join us as we uncover the exciting world of digital assets and distributed ledger technology as a community! We can't wait to bring you the newest and greatest in this ever-changing space. We hope you've enjoyed this edition of AI Crypto Letter. If you have any questions or comments, don't hesitate to contact - we're always happy to hear from our readers. And don't forget to join for our newsletter to receive the latest and greatest in cryptocurrency and blockchain news straight to your inbox. Until next time, happy crypto-ing!